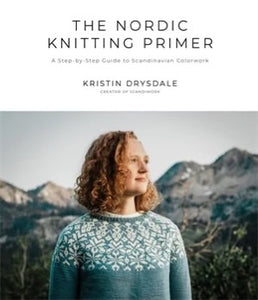 The Nordic Knitting Primer: A Step-by-Step Guide to Scandinavian Colorwork - Kristin Drysdale
$31.00

$31.00
Tax included.
---
---
Kristin Drysdale, founder of Scandiwork, shares her innovative and approachable method for mastering colorwork knitting.
With a family heritage in Denmark and Norway, Kristin is an expert in traditional Scandinavian knitting and has been teaching colorwork to beginners for years. Kristin's clear techniques make it easy for knitters of all levels to create the colorful designs of their dreams. Her unique, friendly instructions talk readers through each step, so achieving impressive results is fun and foolproof.
Beginners won't believe how easy it is to knit up gorgeous patterned mittens, slippers and hats. More advanced knitters will love creating beautifully ornate yoke sweaters with simple execution. Readers can create snowflakes, swirls, stars and other creative motifs, along with beautiful geometric designs.
Plus knitting with multiple yarns creates a warmer knit fabric, for high-quality garments and accessories to gift or wear all winter long. With a wide range of sizes for adults and patterns for little ones, the whole family can enjoy the trendy yet timeless Scandinavian look.
This is more than a pattern collection-packed with essential techniques and clever tips, it's the ultimate guide to colorwork knitting.
About the Author
Kristin Drysdale is a pattern designer, knitting educator and founder of Scandiwork. Known for making colorwork approachable, she has published over 50 popular Scandivian patterns on Ravelry and teaches workshops nationally. Her patterns have been featured in Laine Magazine. She lives in Salt Lake City, Utah.