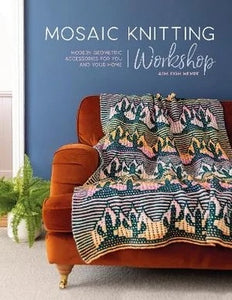 Mosaic Knitting Workshop: Modern Geometric Accessories For You and Your Home - Ashleigh Wempe
$33.00

$33.00
Tax included.
---
---
Mosaic knitting is a quick-to-learn technique that will enable you to make beautiful, colourful knitted projects in no time. This collection of techniques and knitting patterns for mosaic knitted homewares and accessories, includes everything you need to get started with this exciting technique.
Unlike other knitting colourwork techniques, mosaic knitting is beginner-friendly - if you can knit, purl and slip a stitch you can make these projects. The patterns in this collection avoid any complicated shaping and are knitted flat to keep them as accessible and beginner friendly as possible.
Mosaic knitting patterns are essentially knitting stripes and slipping stitches in a pattern to creating striking geometric motifs. With mosaic knitting you only work one colour per row, so you don't have to worry about carrying floats of yarn like you do with stranded colourwork techniques.
Readers are led through the basics with step-by-step instructions and diagrams so that they can master the techniques before trying out their skills on 15 different projects. All of the patterns are accompanied with charts and there are instructions for how to follow the mosaic knitting charts, as well as how to read the written patterns, how to work in stockinette (stocking) stitch and how to carry yarn up the side of your work.
There are step-by-step photographs showing how to work the stitches, as well as advice about choosing and changing colours. Each of the projects has an ability rating so you can build your skills on the easiest patterns before moving on to more challenging, but still accessible, projects.
This collection includes 15 projects with stunning geometric designs including wraps, shawls and cowls as well as blankets, throws and pillow covers. For each of the projects author, Ashleigh Wempe, has designed an alternative colourway so you can see an example of how different colour combinations work for each of the designs.
Mosaic knitting, is a technique that creates beautiful colourwork but is less complicated than other knitting colourwork techniques, it also creates a softer fabric than stranded knitting and the finished knitted fabric maintains its stretchiness making it soft and flexible.