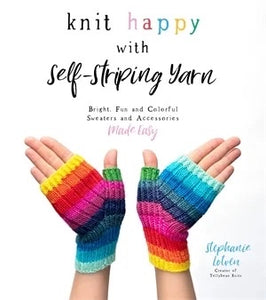 Knit Happy with Self-Striping Yarn: Bright, Fun and Colourful Sweaters and Accessories Made Easy - Stephanie Lotven
$31.00

$31.00
Tax included.
---
---
Creating colorful knits doesn't have to mean buying ten different balls of yarn. Stephanie Lotven, known for her whimsical knitwear designs, shows readers how to incorporate multicolor stripes and shapes into their knitting the easy way. Self-striping yarn is an amazing tool for making stripes and creating eye-catching rainbow details without needing to keep track of several yarns or switch colors in the middle of a project. Stephanie's brilliant designs go way beyond traditional self-striped socks, offering new and exciting ways to showcase these beautiful yarns in sweaters, hats, gloves and more.
New knitters will be hooked by how easy it is to create their first striped-sleeved sweater or patterned mittens. Experienced knitters will be blown away by surprising, creative ways to use that special skein of self-striping yarn they've been saving in their stash. Stephanie's thoughtful, friendly instructions create a foolproof knitting experience for crafters at any level, making it easy to discover the inspiring possibilities of self-striping yarns. This collection includes a wide range of sizes, including adorable variations for littles ones.
This book will have 20 projects and 60 photos.
About the Author
Stephanie Lotven is a knitwear designer and the founder of Tellybean Knits. She has an engaged audience of over 7.5k on Instagram. Her whimsical, approachable patterns are popular with knitters on Ravelry and she has collaborated with many yarn brands such as Autumn and Indigo, Must Stash Yarns and Lolodidit. She lives in Bloomington, Indiana45