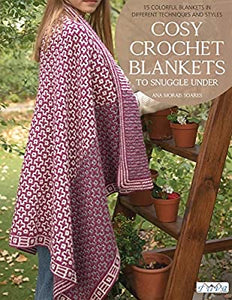 Cosy Crochet Blankets to Snuggle Under - Ana Morais Soares
$30.00

$30.00
Tax included.
---
---
Designer Ana Morais Soares has a great passion for colors and blankets. In this book she presents fifteen colourful blanket projects, using different crochet techniques and styles.

These patterns - a mix of simple and elaborate designs - will add colour and creativity to your home. Blankets are crocheted using yarns in linen, wool, cotton, acrylic, and a mix of these compositions - in beautiful bright or soft colours.

About the Author

Ana Morais Soares is a Portuguese crochet designer and a lifetime creative. She took the first steps in crochet at the age of eight, guided by her grandmother. Adolescence was devoted to knitting, but the crochet bug was always there. After a publisher and a public relations career, crafts won her full attention.